Reading Time:
2
minutes
World Number One Novak Djokovic, will not be able to defend his title at the Australian Open unless he is fully vaccinated against covid-19.
Australia's immigration minister Alex Hawke has stated that unvaccinated players will not be allowed into Australia, as per their rigorous pandemic rules.
"You must be double vaccinated to visit Australia. It is a general rule that does not only apply to tennis players", he says.
Novak Djokovic has not revealed his vaccination status and is in fact a big question mark ahead of the next year's first grand slam tournament, which he is the reigning champion of.
"I do not know if I'm going to Australia or not, I do not know what's going on. At present, the situation is not good at all, he has previously told the Serbian Newspaper Blic.
The 34-year-old serb is not the only player who can be stopped from playing in the Australian Open 2022.
According to recent media reports, more than a third of the tennis professionals are still unvaccinated. Australian players do not have to abide by the double vaccination rule considering they reside in Australia, but will have to go through rigorous testing prior to the tournament that takes place in Melbourne, January 17-30.
Best bets on Australian Open 2022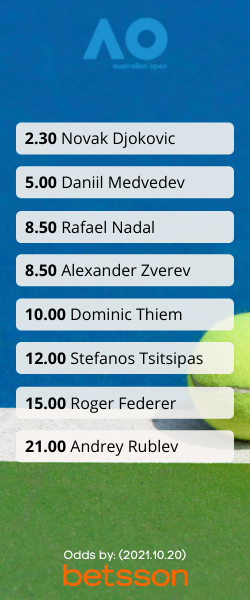 The Betting Companies has not yet made any statements to this and Betsson currently holds Novak Djokovic as the favourite to win Australian Open 2022, followed by Daniil Medvedev and Rafa Nadal. Considering Novak Djokovic might not be in contention at all for the tournament, there might be several upsets along the way in the tournament.